Anju Thapa Magar, who had been studying under the care of 3AN since her childhood, has been selected for Pathway for Promises leading to the 5 years of Bachelor degree at the Asian University for Women in Bangladesh.

A program was organised at 3AN office today to bid her farewell. During the program, Dr Rajendra Gautam handed a cheque of Rs 10,000 to cover her documentation and medical expenses.
We had been coordinating with the university for several such scholarships for five of our girls. Asha Tamang was selected for the scholarship. But due to medical reasons she could not receive the scholarships. She has to use a crutch to walk that was reflected in her medical report. The college cited that for such differently abled student they had to have special facilities and infrastructures and selected Anju in her place.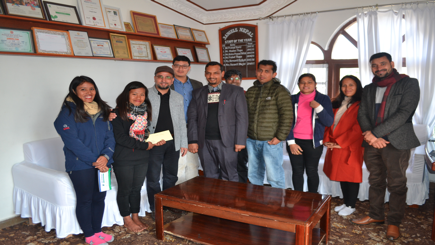 We have counselled Asha not to be disappointed and also assured her that 3 Angels Nepal will do everything possible to help her get a quality education.
Anju Thap will be making her final decisions upon the subject of her study after she reaches the University and attends counselling and orientation organised by the university.
It is our dream to see every 3AN child reach the height of success and make a significant impact in their communities.
We wish Anju a bright future ahead!