Help Us Fight Human Trafficking At All Levels
Every donation, big or small, helps 3 Angels Nepal to fight against human trafficking, at all levels, including rescue, rehabilitation and education.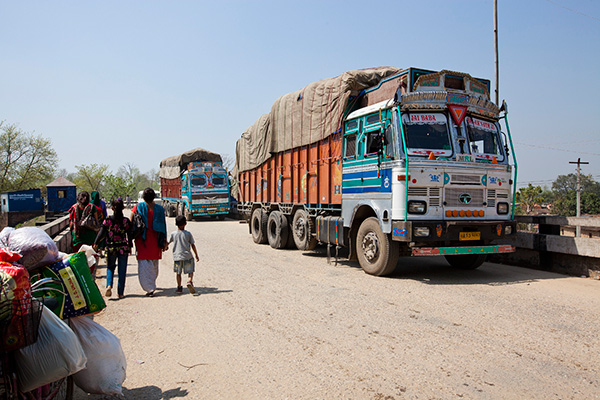 Young people are being trafficked from Nepal into India in higher numbers than ever seen before.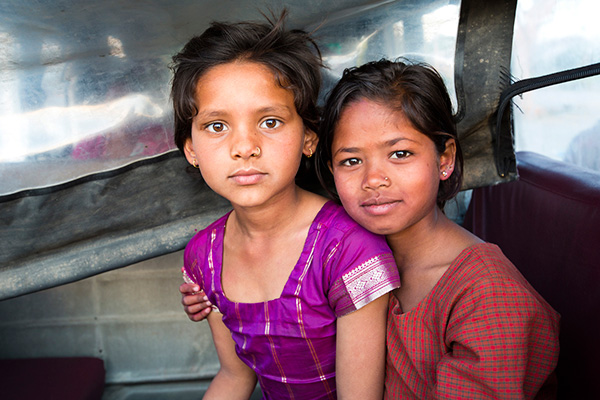 At many border crossings the number of trafficked girls rescued daily has increased from between 3 & 8 to between 12 & 15!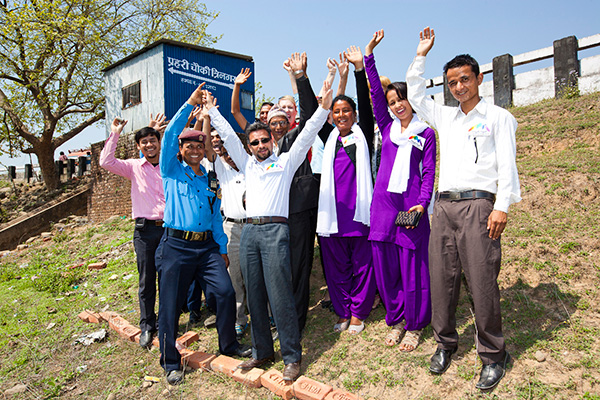 The 3 Angels team continues to work tirelessly to fight human trafficking in Nepal.
The majority of rescued people are reunited with their families, where they are all educated on human trafficking.
EVERY
26.28
Minutes, another girl is trafficked
OVER
30,000
Women & children trafficked every year
APPROX.
$104.63
Average price for a trafficked girl
OVER
33,500
People rescued / intercepted by 3 Angels Nepal to date
Girls are not the only targets for traffickers, both male and female children are being trafficked for different and disturbing reasons! … Females are trafficked for Sex Slavery and Males for Body Parts, among other things.
*Data based on 3 Angels Nepal records til date.
Our Mission
Our mission is for 3 Angels to be guardian angels for vulnerable women and children everywhere; in the prisons, at the borders, in the communities, cities, and villages. We want to share God's love with them in the most practical of ways. We want to be an unstoppable force against human slavery and human trafficking in Nepal.
With your help, we are saving lives – one child at a time.
By focusing on the causes of problems such as child poverty and abandonment, and in providing education and rehabilitation, 3 Angels can actually turn lives around and change entire communities. Additionally, 3 Angels is a grass roots charity, meaning we don't spend huge amounts of money on advertising, staff costs and admin – even this website is donated!
We don't simply rescue; we change the way society is so that rescue is no longer needed. read more
What if you were born in a different place?
How different our lives and those of our children could be if we had been born on another latitude. We could be sold into sex slavery or trafficked for our body parts. This happens to millions worldwide each year and one of the worst places in the world today for human trafficking is Nepal. The situation has increased since the 2015 earthquake which made even more young people vulnerable to the tricks of the traffickers. Find out how you can help change things.
Every donation, big and small, helps us fight Human Trafficking at all levels….. not just with  rescue and rehabilitation for the victims but  with prevention of Human trafficking.
*This documentary was made by volunteers, and not professional film makers. There were many many hours of actual trafficked girls stories in Nepal, summarised, true, condensed and translated to the best of our abilities. This film was made for 3 Angels Nepal in their quest to help fund their fight against Human Trafficking. Names have been changed for protection. Your comments are always welcome.
Every story has a beginning, and this one starts with an 8 year old orphan…
He was living in a remote village in Nepal. He was taken to an orphanage to share cramped conditions with many other children. He was destined to become just another statistic…
But something amazing happened to this orphan that would change his life forever. At the early age of 8, this orphan was fortunate enough to be selected by Asian Aid as one of their first children from Nepal to go to India for education. In 2004, after he completed his education, this same boy went back to Nepal with the aim to contribute back to the Nepali society.
From when he was a young boy, he sponsored by a young Australian student, Peter Sandy. Peter and Rajendra still keep in touch to this day and Peter is now also an Ambassador for 3 Angels Nepal.
He never forgot the gift of hope Asian Aid had given him, nor did not forget how it felt to be a lost child; abandoned and alone, facing a terrifying future of poverty.
That boy was Dr Rajendra Gautam.
Rajendra and Sarah wanted to give all the orphan children of Nepal the kind of care of a loving family. There are now over 160 children living in 12 children's homes maintained by the 3 Angels charity.
One of the original founders of Asian Aid Australia, Helen Eager, had seen the work Sarah and Rajendra were doing, and how they were helping the children, like a family. Helen realised there were many more in need of rescue, which wouldn't be possible limited as just one family, so she decided to support them and start a charity called 3 Angels Nepal. Helen had been known as Mummy Eager to Rajendra from her work with Asian Aid and was 'mummy' to him and thousands of other orphans for many years.
Dr Rajendra soon realised that if he were to make a real difference to the lives of the children of Nepal he had to focus on the causes of their desperation and start looking to the future. read more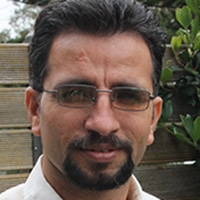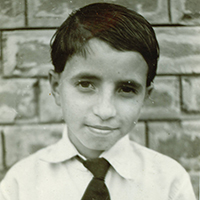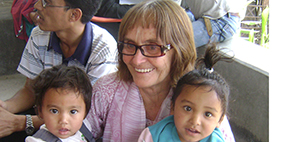 Latest 3 Angels News & Updates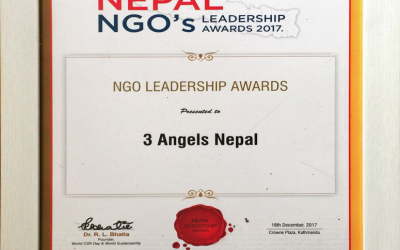 On 18th December 2017, 3 Angels Nepal is honoured by prestigious NEPAL NGO LEADERSHIP AWARDS 2017 from World CSR Day at Crowne Plaza, Kathmandu for "Making a Difference" in Society. During the award function Dr. Rajendra Kumar Gautam, Founder and CEO of 3 Angels Nepal...
read more
Looking to Volunteer?
Whilst many people have generously offered to donate their time, 3 ANGELS NEPAL DOES NOT ACCEPT VOLUNTEERS. This is a reflection of our safety and protection policies for those in our care.
We do however encourage you to 'volunteer' in different ways, for example, rather than volunteer your time in a different country, create a campaign where you are to help raise funds which can than be donated to 3 Angels Nepal. You could have a cupcake drive, host a car wash, have a garage sale, or wear the same dress for a month!
3 Angels always welcomes donations, no matter how big or small.
Awards and Appreciation
Below are just some of the awards and certificates 3 Angels Nepal have received for their work.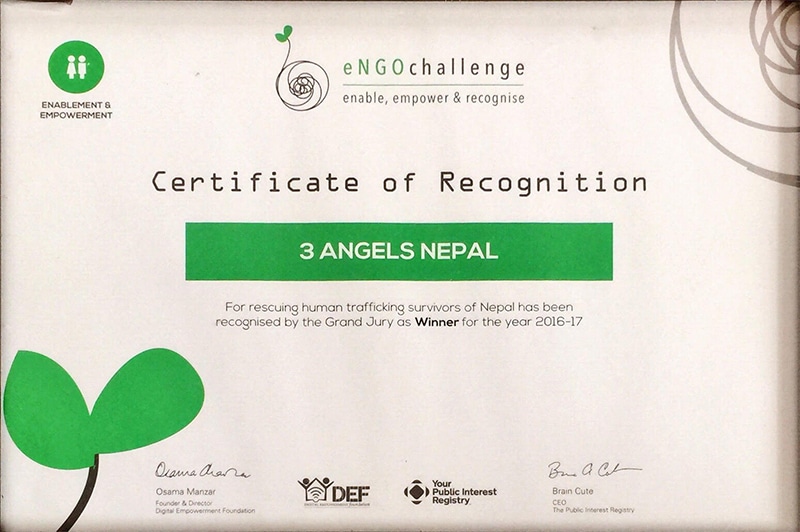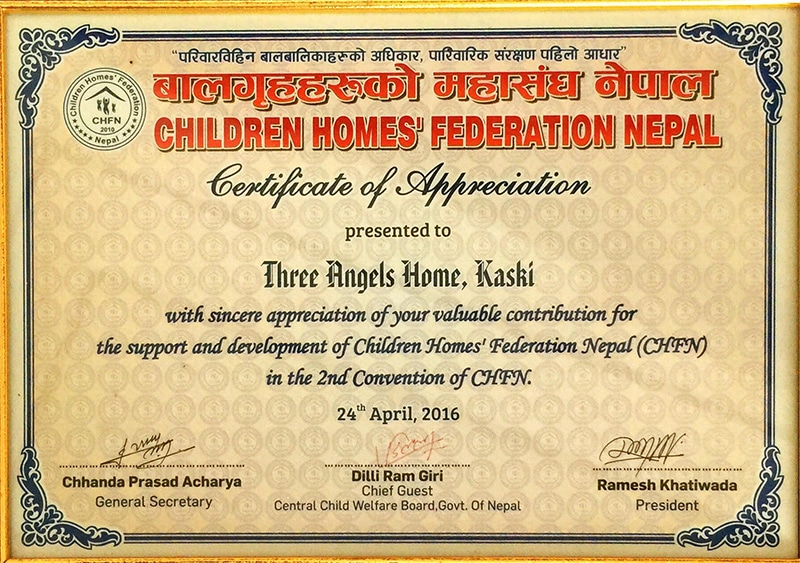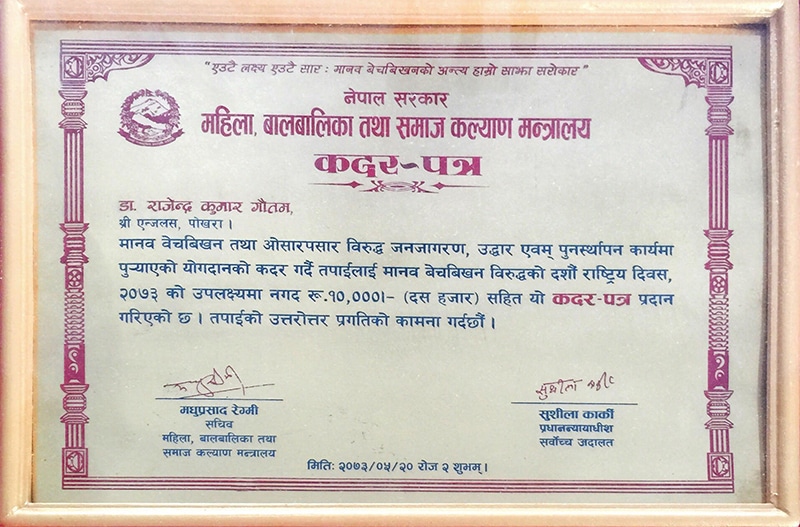 Award (along with cash prize Rs.10000) given by Women, Children and Social Welfare ministry to our CEO for the fight against human trafficking in Nepal.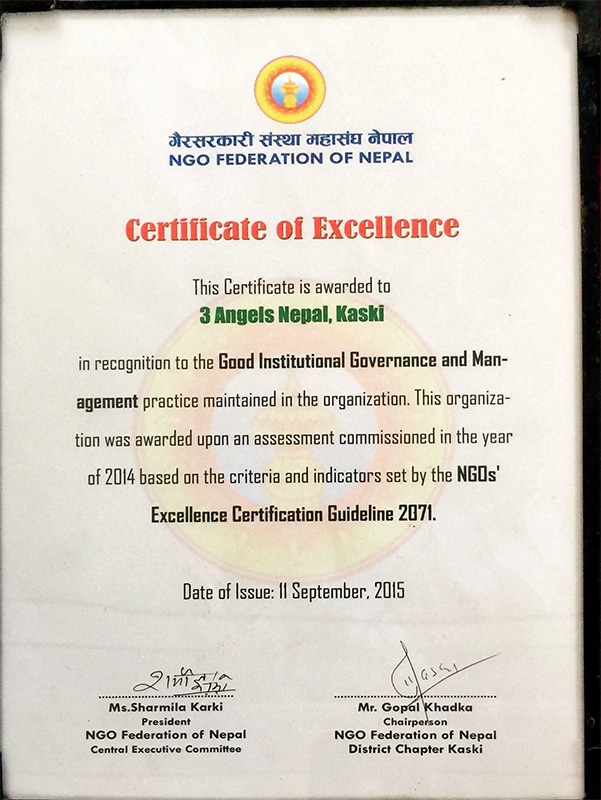 Get Involved
Donate today & help 3 Angels with the fight against Human Trafficking