Providing Hope in a Safe Place
3 Angels have established a Women's Safe Haven in Nepal to care for those who come to us. Very few women are able to escape their captors and so the majority of women and girls have been rescued from the sex industry and are left deeply traumatised by an ordeal that might have lasted years.
Our safe haven isn't just open to women who have been trafficked; we also open our doors in Nepal to women escaping from abusive relationships who have nowhere else to turn.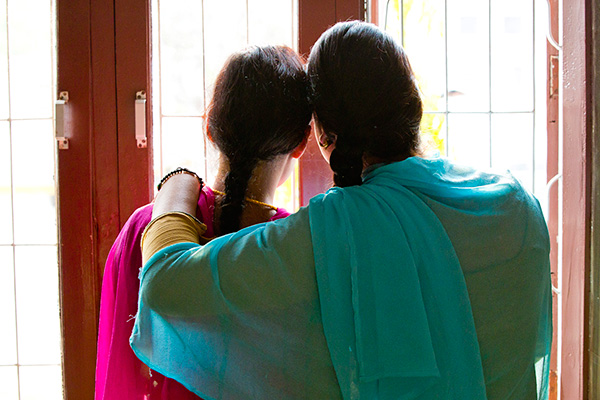 Where is your safe place when you feel vulnerable and threatened?
Where do you go? Home? Your parents? A friend's house? Where do you find your safe place?
Imagine if there was nowhere you could go and no one to turn to.
Over 20,000 women and girls are trafficked into India from Nepal every single year and are forced to work in the growing sex industry. Those are just the ones we know about.
For these women and girls, there are no parents to help them, no homes to hide in and no friends to confide in. They are frightened and alone. Just imagine being far from home, surrounded by strangers who abuse you daily; living in constant fear with no means of escape – with no hope.
We Are the Angels Bringing Hope
Now imagine being rescued; imagine hope; imagine the thrill of being led out of a place of danger into a place of safety, a sanctuary free from fear.
Providing a Future to Build On
Our first challenge is to build up a relationship with the girls. A relationship of trust. This can take days or even months to achieve, as many of the young girls are extremely distraught and deeply unsettled. Once the girls are strong enough, we offer counselling to try and heal some of the emotional pain they have suffered. We share the message of God's unconditional love and acceptance with them.
We work towards providing education and equipping them with useful skills they can use to contribute to society and lead independent lives. These skills include sewing, gardening, baking, health and hygiene and a craft that they can develop that will allow them a small income to live on.
Sometimes it's possible to re-integrate the girls back into their original communities or with their families. If this is not possible, we can help them to get established into new communities to which they can contribute with their new skills and start a fresh new life.
How You Can Help
Even the smallest donation can make a huge difference. Your money goes directly to the safe haven in Nepal to provide clothes, medicine, food, books, educators, counsellors, and things like toys.
Sometimes, giving a traumatised child something as simple as a doll can have the most positive impact on that child's life.
If you decide to have a packed lunch today and save a few dollars on a bought lunch, that money could provide medicine to help treat a battered, sick and abused girl.
Help 3 Angels educate and fight against Human Trafficking!