3​ ​Angels​ ​Students​ ​Participate​ ​in​ ​the​ ​International​ ​Cultural​ ​Exchange Programme​ ​in​ ​India
3 Angels Mission School participated in the International Student's Cultural Exchange Programme which was held in Kolkata from 6th to 8th of November 2017.​ ​3​ ​Angels​ ​Nepal​ ​was​ ​invited​ ​by​ ​​Lakshmipat​ ​Singhania​ ​Academy.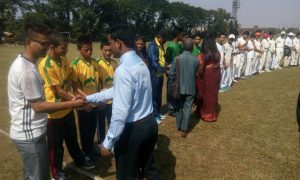 The​ ​participants​ ​were​ ​from​ ​Germany,​ ​Bangladesh​ ​and​ ​Nepal.
Participants from 3 Angels Nepal were selected through a thorough discussion on student's aptitude and attitude. The Welfare and Protection Committee of 3 Angels Nepal​ ​endorsed​ ​the​ ​names​ ​recommended​ ​by​ ​teachers​ ​and​ ​houseparents.
On the 6​th of Nov Lakshmipat Singhania Academy, gave an Indian cultural traditional welcome to the teachers and students of Nepal, Germany, and Bangladesh.
A wonderful assembly was conducted followed by Nepali cultural dance. After the assembly, the entire Nepal, Germany and Bangladesh team were shown around the school.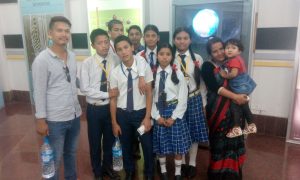 In the afternoon, all participants enjoyed the trip to science city to see and observe many​ ​things​ ​related​ ​to​ ​science,​ ​evolution​ ​​ ​of​ ​life​ ​,​ ​space​ ​world,​ ​etc.
The next day, started with an assembly followed by an Indian classical dance performed​ ​by​ ​students​ ​from​ ​Lakshmipat​ ​Singhania​ ​Academy.
Friendly Cricket and Football match was organised. A team from Lakshmipat Singhania Academy played against the participating team ( Nepal, Bangladesh and Germany). The latter team led by 3 Angels student's won the match and received the​ ​school​ ​bags​ ​as​ ​a​ ​prize.
After the games, we visited Gurusaday museum, Swaminarayan temple, Howrah bridge​ ​and​ ​Vidhaya​ ​Sagar​ ​Sether​ ​bridge.
On the 8​th of Nov, all were taken for a city tour. We first visited the Jain temple and thereafter the birthplace of Rabindranath Tagore, winner of ​the Nobel Prize in Literature​ ​1913.
3 Angels students had a privilege to interact and make friends with students from different​ ​cultures.
These students from 3 Angel's Children homes feel very fortunate to take part in important events which helps to see things, understand life and the world through different​ ​perspectives.​ ​It​ ​was​ ​a​ ​memorable​ ​visit​ ​of​ ​adventure​ ​and​ ​learning.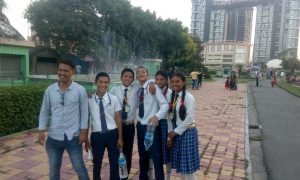 3AN has been helping children under its care to be no less competent than any other privileged children. It also envisions and hopes that these children coming from a very humble background reach the everest of success and bear fruits to help others.