Up to 80 children are imprisoned with their mothers at one time in Nepal
According to UNICEF these children are often forced to live alongside as many as 20 other women in cramped conditions behind razor-wire fences with no facilities for children and no schools.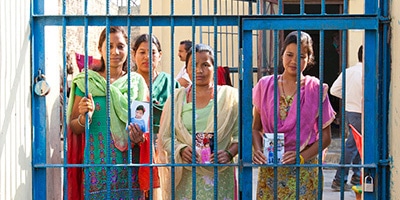 These innocent children could spend their childhood behind bars
In Nepal, it is often the poorest people who end up in prison as sheer desperation to feed their families can sometimes drive them to crime. When they are caught, their children serve the same punishment as their parents as there is often no one else to look after them. If they didn't go to prison with their parents they would be forced to survive on the streets.
This can especially be the case with mothers who are often left to bring up their families alone.
A Childhood Behind Bars
Growing up in a fearful, unstable prison environment without any form of education and hardly any experience of life on the outside can leave many Nepali children without hope of a future.
Light in a Dark Place
3 Angels provides prisoners and their children with both practical and emotional support that can make a world of difference to their quality of life. We step in with basic provisions that are not provided by the prison authorities, supplying things such as:
Extra blankets
Toiletries
Children's clothes
Books and stationery
Toys
Financial support
Education
Medical Assistance
Computers
Sports Items
Once they leave prison we are also there to help them pick up the pieces of their lives and look forward to a brighter future with education, training and emotional support.
Some of the children who have grown up behind bars often need specialist support in order to adapt to life on the outside whilst their mothers can be given training so that they can eke out a living to support themselves and their families.
Why Should You Help?
Why should you support a prisoner and their family? Again, it's all about prevention. If a child has grown up in prison, what are the prospects for that child? What happens to them once they leave prison? How are they able to support their families?
The temptation to turn to crime for a source of income is often very strong. This is why we are there to help with education and training so that these women and their children can at last imagine a future without crime.
Most of the people who visit the prisoners and provide support to them once they leave are volunteers but we still need funding for specialist members of staff who can provide greater support to the women and their families; who can educate them and train them.
Donations can also help to pay for some of the basic supplies that mothers and their children lack in these overcrowded prisons.
It's easy to turn away and think that it's not your problem. It's amazingly noble to show some humanity and embrace the problem instead.
Get Involved in the Prison Outreach Program
Donations for this project can be made through our Partner and 1st Honorary Chairman of 3 Angels Nepal, Helen Eager